After sewing, the endsheets were tipped to the loose guards. The spine was then glued up with hide glue, squared up to head and spine and allowed to dry.
Here's a view of the texblock after rounding…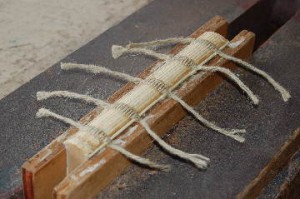 and here it is in the press prior to backing.
After backing, the spine was lined with two layers of machine-made Okawara pasted between the cords and just over the kettle stitches and a third layer cut to cover the spine just shy of the kettle stitches; this to make allowance for the endband sewing. The lining papers were cut wide enough so that they could be adhered to the pressing boards. By doing this the linings are pulled tightly onto the spine as they dry. The book remained in the press overnight. The next day I used a bone folder to separate the text from the pressing boards, removed  the book from the press, cut the cords to about an inch on both sides and frayed to cords out.
To equal the depth of the shoulders and to accommodate insetting the door number and telescreen elements the boards were each laminated from two pieces of two-ply museum board with a layer of handmade paper between them. While they were drying I airbrushed the textblock edges with more acrylic black and raw umber.
When the boards were dry they were squared up, cut to size, and a two-ply spacer tipped along the spine edge of each.  The frayed slips were then used to attach the boards to the textblock utilizing hot glue and paste. Endband cores were laminated from leather and vellum, cut to a triangular cross-section and adhered to the texblock with small pieces of Sekishu, as can be seen above.
The endbands were sewn with two colors of silk, then the ends of the cores were trimmed off and glued.
Finally, the boards were lined on the outside with handmade paper and sanded smooth, and a tube of machine-made Okawara prepared and adhered to the spine of the book.
Next episode: cover insets.