The insets for the front and back are comprised of frames and backing pieces of two-ply museum board. While differing in detail, they are the same size, and echo the proportions of the book. The image for the telescreen consists of a background of tv snow printed digitally onto Rives paper;  the text was printed letterpress using Franklin Gothic type. The door number was printed using small wood type onto a piece of gray over black paste paper. The toned gray leather for the frames was pared out on the Scharf-fix until it was quite thin.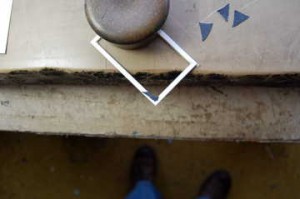 As is the case with such frames, the inside corners had to be covered before the main leather was adhered.
Then the covering pieces were adhered, cut and turned in.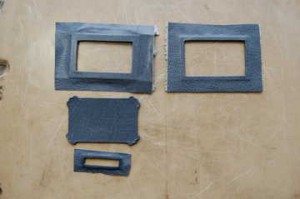 Because the backing piece for the front frame (the middle piece on the left) has little ears that are intended to be visible, it had to be completely covered. The small frame below it is for the speaker.
Here's the telescreen before assembly. The frame covering leather needed to be cut so as to fit around the ears on the backing piece. And below you can see the Vyvek plastic which covers the image.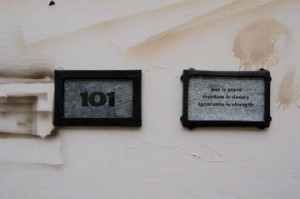 The assemblies are held together by the covering leather wrapping around the backings. Since neither the images nor the Vyvek pieces are adhered to the backings there's no problem with expansion or pull.
Once these units were finished, I traced the outlines onto the boards, added a bit to allow for the covering leather, and cut out  the outer layer of museum board where the insets were to go. At this point it was time to prepare the covering leather and the large onlays.