Finally, the box. The book originally came to me with an incomplete dust jacket; probably the circumstance which made this copy suitable for rebinding. However, the dust jacket was still worth preserving, so I made a cloth covered two-flap portfolio for it, and built the box inner shell according to the Library of Congress plans for a box and portfolio.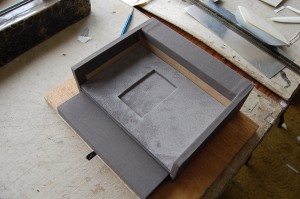 The inner shell was constructed so as to fit both the portfolio and the finished binding. The shell was covered with gray Iris bookcloth. After covering the shell and portfolio were airbrushed with a combination of raw umber and black to bring down the tone The shell was lined with gray suede adhered to thin board, turned in, and glued into the shell. Next the outer shell was built, covered and airbrushed.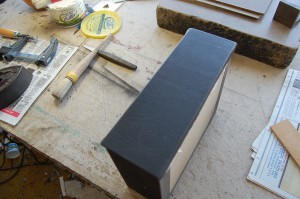 The board for the spine was covered with a a piece of the same gray leather used for the binding, turned in head and tail, and then adhered to the bases of the shells. This style of box was a favorite of the Eberhardts; I like it because the flat spine with the leather disappearing under the boards makes for a very contemporary box, as opposed to the rather Victorian round spine (sometimes with fake bands) extending well onto the boards.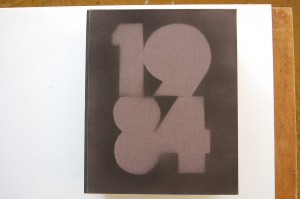 The boards were covered with gray Iris, and the same aluminum patterns used for the onlays did double duty as airbrushing masks.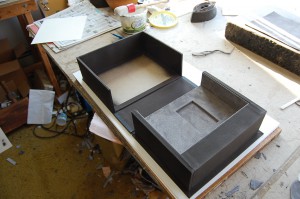 This image shows the box after the spine lining cloth was attached, and before the suede lining pad for the outer shell was made and adhered.
The final step was to pare, line and stamp an irregularly shaped piece of suede for the box label and and adhere it to the spine.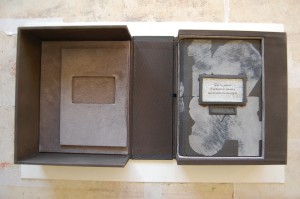 And an image of the final presentation. I want to thank the client, who was willing to let me share the documentation of this extremely gratifying project.