Max Rash: March 12, 1995 – October 18, 2010
On Monday October 18 Max, the Boss Dog of 59 & 50 Burke Street, passed out of our lives. She'd had a tough last year and a half, losing most of her sight and suffering from a tumor on her spine that increasingly affected her ability to walk. The week prior she had stopped eating, then drinking, until by Monday she had grown so weak that we took her to the West Side Veterinary Hospital where we made the decision to euthanize her.
As dogs go, Shiba Inus are known for not being paragons of doggishness; they're independent, aloof, shed two dogs worth of fur twice a year, and when they take off running they're not inclined to stop for anything or anyone. Max was all of these, not to mention her penchant for digging holes in every seat cushion in the house in her younger days. And yet she made our lives so much better for the fifteen and a half years she was with us. Aside from one abortive attempt to kennel her when we went away, she went wherever we went and made friends everywhere: Montreal, Toronto, New York City, Charleston SC, Pittsburgh, Dover DE (doesn't really count; trip to see my parents, where she was much doted on), Wilkes-Barre PA (where Elaine's parents likewise doted on her), Greencastle PA (Elaine's brother and his family ditto), Philadelphia, Washington DC, Towson MD, and quite a few more. Once the bindery moved to 50 Burke St. across from our house, she went to work with me every day from 1997 to 2009 as Director of Public Relations and Ambassador Plenipotentiary to the Outer World. She was also the namesake of the eponymous Boss Dog Press. She tolerated the steadily increasing cat population of our house and was never aggressive toward them, but she did acquire a taste for cat food. She was always ready for her daily morning and evening constitutionals, although she wasn't the kind of dog one could take for brisk walks; her style was one of short ambles punctuated by frequent stops.
While there's much more I could say, here instead are some pictures.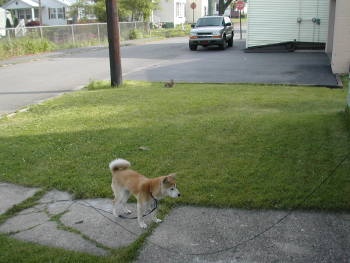 In front of the shop
Snow Shiba
I know yer in there…
Nap time…
And again…
Opening presents at Christmas
Taking a stroll with one of the locals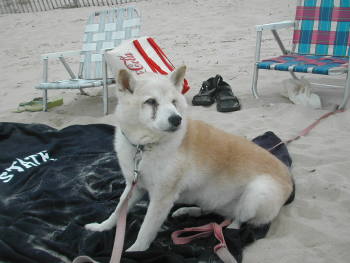 The Matriarch at the beach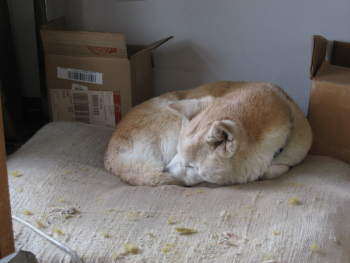 Max photographed by Linda Cunningham in the shop
We do want to express our deep gratitude to Dr. William Rubin and the staff at the West Side Veterinary Hospital in Kingston PA for taking such good care of Max over the course of her life and for their support during her last days with us.